The House at Silvermoor is the fifth book by the author Tracy Rees. I have been lucky enough to read it and my review will be coming up in the next few weeks.
However it got me thinking about her previous four books and I thought it would be an opportunity to tell you all about her books. They are historical fiction in the main, but there is something about each and everyone of them that does not actually fit nicely into a prescriptive box. This is something that speaks to me – as I do not fit nicely into a prescriptive box as some of my friends will testify to.
To go back to the beginning..
Amy Snow –
No one knows who Amy Snow is, where she came from or what her true name is. She was named Amy by Aurelia Vennaway who found her in the snow one January at Hatville Court.

Unfortunately her start in life is not one of warmth and kindness. She is hated by the owners of Hatville Court and the kitchen staff who are tasked with looking after her find her an additional nuisance to deal with. She is neither servant nor companion, employee or friend. Amy Snow exists to no one at Hatville.

Aurelia though has other ideas and is very strong-willed against her parents and Amy becomes embraced in Aurelia's life.

Being set in Victorian England, there are obviously going to be comparisons to some other great fiction of the time, Jane Eyre springs to mind, orphan struggle, class position, romance and the search for something. Being the time of Dickens and he is referred to in the novel itself brought with it the descriptions of Victorian life away from the page. The darker places of cities as well as the bright lights of balls, calling cards and receiving guests. The thought of travelling two days to Bath from Twickenham by coach seems unbelievable when it can take mere hours now. All of this is and more is packed into the novel.
Florrie Buckley knows she was loved and adored by her mother and her father. Being brought up on the wild moors of Cornwall, she knows the importance of nature. She knows the importance at listening to what the spirits are telling you and where they are guiding you and that perhaps whilst it might not be convention it is the way to lead your life.

That is until Florrie Buckley learns something about her past.

Set in Victorian England, this book reminded me less of Victorian gothic writers and more of a story which had a Catherine Cookson element to it. Wild barefoot uncontrollable girl, not after a better life, but one is thrust upon her, when all she wants is to be wild and free again. Will that happen?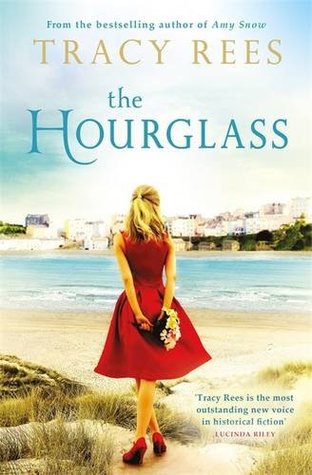 Present day: Nora suddenly has a clear image of a beach, a seaside town. It seems to be calling to her and it is a place she has only been to once in the past. The place is Tenby, Wales.

1950s: Chloe spends three weeks every summer with her aunt and uncle at a seaside town. An opportunity which she spends the other 49 weeks of the year dreaming about. Not only the journey, but the beach and her best friend are their. The place is Tenby, Wales.

The story progresses between these two women and you do find out fairly early on the link between them as that is important as the story and the women's lives move in very different directions but oddly enough they move most importantly to each other. Suddenly the anxiety of the past and the present makes sense and the future now can be something very different. When the sand has run out, you have to turn the hourglass over and start all over again.
It is 1923. The First World War is still in the minds of some people but life has moved on and this is the era of the "Bright Young Things" and we get to meet three very different women experiencing their own lives in very different ways but all been drawn together by Darling Blue.

All three of these women are having different experiences of love, romance, marriage and life, Tracy Rees has woven a tale of differences and similarities by these three women in this novel.
All of the titles are linked to my reviews and I do hope that you perhaps find a book here that might interest you. All so different, all so compelling and all worth a read.
All of Tracy's books can be found via Amazon and more information about the author can found here.
Please note I have received nothing in return for this post or any of the reviews – I just wanted to share my reviews of the books.