Before January runs aways with us – I thought I should look back at the books I read in 2018.Books in 2018
So a few stats:
109 Books Read – My challenge completed in November, which I am sure is a first!
The shortest book was 34 pages.
The longest book was 738 pages.
In total of the 109 books that is 35,040 pages equal to 671 pages per week or 95 pages per day.
In terms of physical books and ebooks – this year the kindle overtook at 78 books and I know this is down to the wonder that is netgalley which is giving me the opportunity to read so many books before they are published or just as they are in return for a review.
New for 2018 was re-read and this was one book – The Guernsey Literary and Potato Peel Society a wonderful book which I wanted to remind myself of as I was looking forward to seeing the film.
Never mind the statistics what of the actual books – oh gosh well here it goes I suppose.
Regular readers of this blog will know I am a big Lucinda Riley fan which is why of course no list would be without one of her books – I held onto The Pearl Sister to read in 2018
CeCe feeling rejected, unwanted and definitely unloved begins her travels to Australia with the only clue that her adoptive father has left her the name of a woman pioneer and an old black and white photograph. Two things that seemingly have no links to each other let alone CeCe.

But this is a Lucinda Riley book and there is a link and a wonderful and beautiful story to tell.
And rather than wait and saviour the next in The Seven Sisters series I dived straight into The Moon Sister
The author, transported me back to this place, the darkness of the caves, the problems that the gitanos faced being on the outer edges of the city, of society, of religion, of what was considered normal behaviour. But showed a community brought together by all that makes them different, the culture, the music and of course the dance.

Words are lyrical, they can take you somewhere, they can form pictures in your imagination. But in this book, the description of the flamenco dancing and the music, but the flamenco especially, just resonates off the page. You can feel the vibrations of the feet, as they stamp and form, as the beat increases, as the arms move in almost synchronicity to the feet, as the dress is moved in time to the music and as the appreciative audience are held spellbound by such a display.
Reading multiple books by the same author certainly seems to have been a 'thing' of 2018 and therefore mention must go to:
Phillipa Ashley
I enjoy Phillipa Ashley's novels, she writes with such warmth, that it feels that I am transported to wherever she wants to take me and I become part of the story which is why I can read her books so quickly. The only downside being I then have to wait ages for the next one! I either need to read slower or Phillipa needs to write quicker!
Christie Barlow
A warm fuzzy novel that leaves you wanting more and as Christie Barlow writes more her storylines go from strength to strength. You will not be disappointed.
Sarah Bennett
Yet again Sarah Bennett delivers a story which has you falling in love not just with the gorgeous Jack but the setting as well. I wanted to walk along the promenade at the bay as well as delight in the smell of the lavender that I am convinced was seeping off the pages.
Cathy Bramley
I could see it coming and this is no reflection on Cathy Bramley's writing or plotting. The book is well written and you could see that the author has reflected on all the characters and the effect the tragedy would have on them. This was not simply about one person's issues and the rest of the characters faded into the background you got the full effect and you almost had to decide what you would perhaps do in that situation?
Emma Davies
This is the final book in the series of the Little Cottage on the Hill. I would heartily recommend reading all of them in order (my OCD kicking in) because that way you'll understand the draw of Joy's Acre, as well as experience such strong writing and characterisation.
Holly Martin
Thank you Holly for the joy you bring in your writing.
Heidi Swain
Heidi Swain in my opinion has done it again in drawing you into a story which of course has a romantic plot line but has so much else going on as well. She manages to make sure all the characters are well-rounded and have depth, even if they are minor and I am as much intrigued by Dorothy and Molly as I was delighted to be able to catch up with Anna and Jamie.
I have picked these authors because I know I will come back to them time and time again – there are some more authors who I read a number of their books during 2018 but whilst they were pleasant diversions realistically sometimes you have to stick to your favourites. Maybe I will come back to them in years to come – who knows?
Of course when you find new authors you cannot neglect your favourites and so the year would not be complete without reading one (or more) of their novels. So here goes my annual mention for Trisha Ashley – The House of Hopes and Dreams
This book has everything you might want in a book, romance, death, big houses, dogs, cake, quirky characters, history and laughs. Not sure you could ask for more really?

A favourite of mine for 2018 and it's only February, I could in fact go back to the beginning and read the whole thing again!
And of course Veronica Henry – A Family Recipe 
A heartwarming novel which shows you the strength of love, the choices you make and the place that you should always call home. What more of a recipe do you need to read this book?
Then of course I have gone back to some sagas and I am itching to read the next in the series of the Shipyard Girls by Nancy Revell
I cannot say that these novels have becoming formulaic or boring, the author somehow injects different plot devices into them just to keep us readers on our toes and also covers some of the more less publicised aspects of the Second World War. I am intrigued as to where the author will go next.

This series of novels has really captured me and it is a long time since I have read any decent sagas which I want to return to and continue the story. I envy anyone who picks up the first of these novels – they have such joy to come.
I personally think the last couple of years my reading has been dominated by women's fiction and whilst I may not be reading the books every critic or newspaper column thinks I should be reading – I have read simply what I have wanted to. 
Do you know what? I have loved every page of it.
Of course there have been some books which did not really do it for me and whilst I persevered with some I did give up a few others. I really believe in passing on a book and know that some books work for some and others don't.
Interestingly The Seven Deaths of Evelyn Hardcastle – Stuart Turton features on many favourites – I could not get on with it.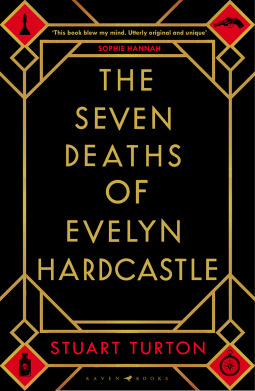 I persevered because the book is clever, the concept of seeing something happen again and again but in the guise of someone else is intriguing. The twist of being able to stop it to save yourself gives it another added layer.

But I wonder whether this book was simply too clever for me? I think it might have been. It had all the right elements I like in novels, a cast of characters both masters and servants, a big house, set in the past, a mystery, a twist but it whilst it held my attention enough to keep me reading I was left feeling rather flat at the end.
Others disliked Dear Mrs Bird – AJ Pearce which I adored.
This is a wonderful novel which transports you into the heart of Emmeline's life, into the heart of London, into the reality that is war on the Home Front. Not afraid to tackle subjects either through the letters that are written in to Mrs Bird or the main storyline of the book, this debut author captured my heart and attention immediately and I was completely drawn into the story.
Who else should get a mention, Jenny Colgan, Lesley Kara, Adam Kay, Carole Matthews, Lily Graham, Ruth Jones and Gail Honeyman. 
So that was 2018 and I did not sign up for any specific challenges in 2018 other than wanting to read 100 books and at least 4 Agatha Christie. 1 out of 2 is not bad! It was 3 for the Christie and I will certainly try for another 4 this year. Other than the obvious 100 books I will take the year and my reading as it comes!