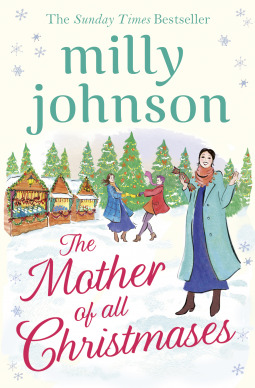 Meet three women who through one common denominator are going to be friends forever – they are all pregnant.
But that is the only common thing between them all.
Eve, pregnant and due on Christmas Day owns and runs the Winter Wonderland theme park which was featured in a previous Johnson novel. You don't have to have read it to make any sense of this story, but it was lovely to meet back up with familiar characters.
Having a baby is not really a problem, but when there are other distractions and some dangerous accidents going on, is Eve really safe to carry on working there?
Annie, childless and now content with her life with her italian husband, Joe runs the cracker factory which specialises not just in the mass market ones but also handmade, bespoke ones too. But as she ages, the inevitable she thinks is happening that is until she is told that she is in fact pregnant and not going through the menopause. Utter joy fills both Annie and Joe.
Palma agreed to be a surrogate for a couple she thought could not have children. It was the way she was able to access money and get herself out of the life she found herself in. She wanted better and she was not afraid to work for it, but she needs to escape her past. Trouble is the couple split up and Palma is left with some very difficult choices.
Coming together at their Doctor's new Christmas Pudding Club the women forge a friendship and we get to see them as they go through the highs and lows of their impending motherhood.
Add into that, some unsavoury character, cracker making, a wedding, an important boxing match and of course Christmas and there is much packed into this novel. It made me laugh out loud and it made me cry with joy and sadness. What more could you want or need from a novel?
Thank you to the publisher and netgalley for the opportunity to read this book.
The Mother of All Christmases is published on the 15th November.