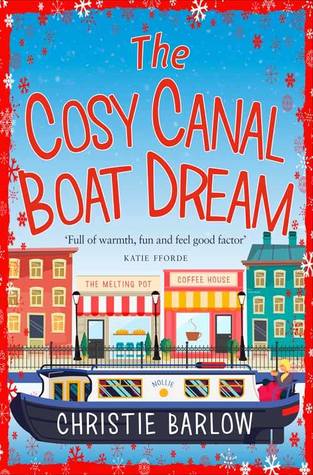 I have had this book a while and had not yet got to reading it as I had previously read some other books based on a canal boat and did not want to dilute this one. In hindsight I should have just ploughed on with it as it is totally different to the previous ones and was a wonderful story.
Nell is still grieving for Ollie, her husband who tragically died some two years previous. She has sort solace in working at her best friends deli and tends to just consumer her waking time with being busy. Nothing could possibly heal her from the heartbreak she feels.
Then in bounds Sam and knocks her flying but it is Sam's owner, Guy that knocks her heart into gear again and they begin a friendship which looks like it might develop. But Guy is only here temporarily to help his brother, Ed and perhaps he hasn't been truthful about his own past that he has left behind.
Add into the mix of this story, a dilapidated old cinema which needs recusing from developers, a Deli of the Year competition, Nell's mother hiding secrets in shoeboxes and behaving oddly and a well-known actor mooring in the marina and plenty of babies.
So much goes on that ties all the characters together that this a book to get completely lost in and thoroughly enjoy. Christie Barlow's writing seems to be getting better with each book I read and I think she would really be good writing a series of books where we can really get to know the characters and enjoy them and the setting – such as this marina, the canal boat, the cinema and the delicious sounding deli again!
Thank you to the publisher and netgalley for the opportunity to read this book. Sorry it has taken me so long!
The Cosy Canal Boat Dream is out now.