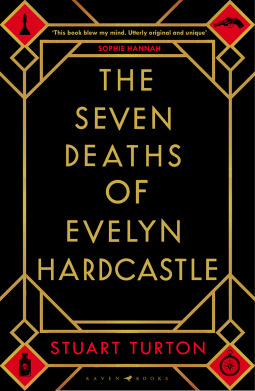 How do you stop a murder that's already happened?

At a gala party thrown by her parents, Evelyn Hardcastle will be killed–again. She's been murdered hundreds of times, and each day, Aiden Bishop is too late to save her. Doomed to repeat the same day over and over, Aiden's only escape is to solve Evelyn Hardcastle's murder and conquer the shadows of an enemy he struggles to even comprehend–but nothing and no one are quite what they seem.
This book intrigued me – which is why I chose it. As I started on the adventure I was immediately reminded of the film Groundhog Day where the same day is relived, in the case of Aiden Bishop he is reliving the murder of Evelyn Hardcastle every day but in a different person's body.
So far so good.
Then I ran into trouble. I was getting confused with who was who, and whilst I have no aversion of reading on my kindle this was one of those times when I wish I had a 'real' copy so I flick back to the beginning and get a sense of who these people were.
I persevered because the book is clever, the concept of seeing something happen again and again but in the guise of someone else is intriguing. The twist of being able to stop it to save yourself gives it another added layer.
But I wonder whether this book was simply too clever for me? I think it might have been. It had all the right elements I like in novels, a cast of characters both masters and servants, a big house, set in the past, a mystery, a twist but it whilst it held my attention enough to keep me reading I was left feeling rather flat at the end.
For me this book didn't work. If you choose it, it might work for you.
Thank you to the publisher and netgalley for the opportunity to read this book. 
The Seven Deaths of Evelyn Hardcastle is out on the 8 Feb.