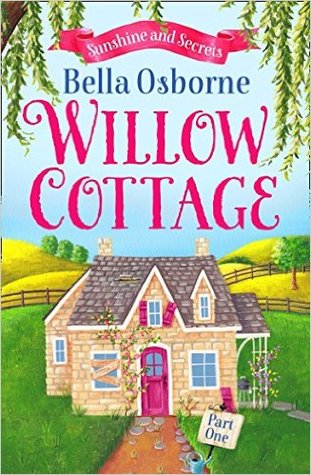 Thinking I was getting a whole story when I chose this book, based on the bright cover and the premise of another cottage come village tale, I was a bit disappointed it was only part one. Not being overly keen on serialised books, which seem to dominate at the moment. However, I became more disappointed once I started reading the book because I became hooked with the characters and their lives and I wanted to know more about Willow Cottage. I was clearly going to have to enjoy what I could read and wait patiently for the next part.
Beth buys a cottage at auction, unseen. No surveyor report, no photographs, Beth knows nothing about the cottage at all. All she does know is she has to get away and protect her son Leo and this seems the ideal opportunity.
When she does arrive in the village, she struggles to find Willow Cottage and whilst doing so encounters many of the eccentric locals. Then there is moody Jack who seems intent on showing up the mistake Beth has done in buying the cottage.
This is not the project Beth was looking for in the cottage, it is going to take more than some paint and carefully arranged cushions for Willow Cottage to stand out from behind the trees let alone as a habitable property with the prospect of selling it.
We get to know a little bit about Beth, but I couldn't quite work out, what Beth was running away from, we see and learn a little bit through characters from Beth's past but it does not all seem to be as it should. And that is why I kept reading and why I must now read part two!
Thank you to the publisher and netgalley for allowing me the opportunity to read this book. 
Part 1 – Willow Cottage: Sunshine and Secrets is out today!