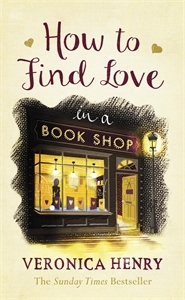 Any novel that has a bookshop as part of the overall plot is a winner for me, even before I have started reading. Added to that is one of my favourite authors in Veronica Henry and I know that I am onto a good enjoyable read.
Nightingale Books is a bookshop in a Cotswold Town. It is a place where when you enter you can escape for such a long time, a refuge for all those true book lovers.
It is owned by Julius Nightingale, who made the decision to set up this bookshop when he found himself a single father to a small child in the 1980s.
Some thirty years later Emilia returns to her childhood home in tragic circumstances and tries to keep a promise to her father. Dealing with emotions whilst trying to work out what to do, as developers try and make the decision for her.
The customers are unique and quirky and all have their story to tell. Sarah Basildon came into the bookshop for books but left with something important, Jackson is trying to help connect with his son but has an ulterior motive, cookery books help Thomasina but not when it comes to love and Bea finds herself committing a crime she never thought she could.
With various storylines going on, they are all pulled together through the bookshop. All of the characters were either likeable or disagreeable that I had to keep reading to make sure they all made the right decisions. I knew Veronica Henry would take us to the right conclusion, but it was a bit touch and go and I did wonder a couple of times. The sign of a good writer – she had me hooked and I cared about these people.
A feel good read and it would be good to go back and read some more about Nightingale Books and their characters in the future.
Now…… how do I find love in a bookshop?
Thank you the publisher and netgalley for allowing me the opportunity to read this book.
How to Find Love in a Bookshop is out on June 16th.