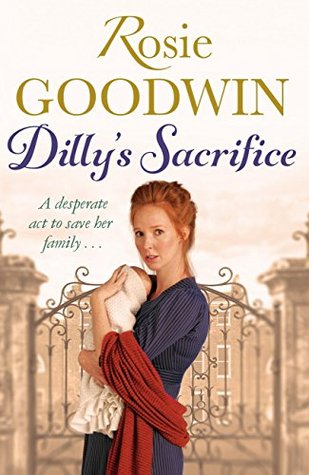 Meet Dilly Carey, married to Fergal, mother to three boys, Declan, Kian, Seamus and one girl, Niamh.
Times are hard for them all, following an accident Fergal is not able to earn money to support his family and therefore it is Dilly who makes the sacrifice and goes out to work, to keep food on the table and some comfort at home.
Another mouth to feed would not be ideal, but of course you cannot stop nature. But you can perhaps realise that you might have to give something up in return.
That something is a baby, which Dilly takes up to the big house and gives it to the Farthings, having recently lost their own baby to measles, it can comfort them and also provide for Dilly and her family. The condition is that Dilly can become a maid in the house.
Everyday Dilly has to deal with her family she leaves at home with her disabled husband and go and work in a place where her newest born daughter is getting everything that Dilly could never be able to provide for her.
Her relationship with this family and the house is bound together in so much happiness but unpleasantness as well. As time marches on, Dilly has to find the strength to cope with many other challenges in her life that are inflicted on her, her family and even her friends. Some of it was quite harrowing, some shoe the strength and loyalty that Dilly has, all of it with its twists and turns kept me reading.
As The Great War looms from across the sea, it seems that Dilly is going to have to sacrifice more again to be able to keep together everything and everyone that is dear to her.
This book by Rosie Goodwin reminds me of the Catherine Cookson's I used to read when I was younger. There is so much packed into the pages, with so much happening to the characters that you almost forget you are reading because you become so immersed in the story, it is as if you are there with them all. Whether that be in the damp dark home of Dilly in the Midlands, or across the Irish Sea to Dublin to visit Dilly's in-laws.
This book was so good and although I am late to picking this up to read and review, I immediately went and got the next in the series because I wanted Dilly in my life for a bit longer. I love historical sagas and this book and author is one of the best out there.
Thank you to the publisher and netgalley for allowing me the opportunity to read this book. 
Dilly's Sacrifice is out now, the second book in the trilogy Dilly's Lass is also out and the third Dilly's Hope is published on 7th April 2016.