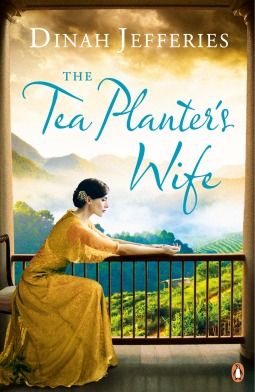 Dinah Jefferies in her first novel, took me all the way to Malaysia. In this novel her second, she has taken me away to Ceylon.
I feel like I am going on a journey not just across to another continent but also backwards in time to another era.
It is the 1920s, Gwen Hooper, newly married has made the long journey to Ceylon to be with her new husband, Lawrence. However the man she gets to in Ceylon is so far from the loving man she married and has dreamt about on her passage.
Everything is very different, Lawrence is not so loving and attentive and it seems being a Tea Planter's wife is a role that Gwen was not expecting. She is very much isolated. Even with the servants, she never feels quite right taking control of the house. The arrival of Verity, Lawrence's sister could be the friendship she needs, but it seems that there are other forces at work.
Suddenly with all this responsiblity for someone so young she struggles, but she knows right from wrong and senses when there is something untoward going on. As the book progresses we are taken on Gwen's journey and how events transpire in a culture and society that does not sit comfortably with her.
With a strong plot line, I was unsure of where the book was going to go. There are wonderful light moments for Gwen, but so much is made darker by the tragic actions of not just Gwen but a number of the characters. Secrets can destroy many and guilt can keep you consumed forever.
The book is made even richer by the descriptions of the scenery, from the first few pages as Gwen arrives, to the monsoons that envelop the villages, the way the natives live and work, to even the simplest walk. It is all richly described and jumps off the page to create wonderful imagery that I do not think any screen adaptation would do justice so.
There is much to this book and plenty I could say but to do so will give away the strength that this book has in holding your attention and making you feel for the characters with some warmth and equal coldness where applicable.
Thank you to the publisher and netgalley for the opportunity to read this book. 
The Tea Planter's Wife is out now and is also an Autumn Choice for the Richard and Judy Book Club, which I hope will bring many others to Dinah Jefferies work.