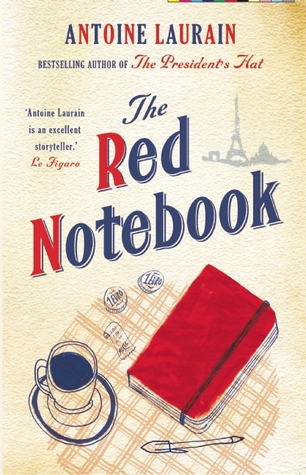 If you came across an abandoned handbag in a street – what would you do? Would you hand it in to the police and hope the handbag would be reunited with its owner soon? Or would you look inside and see if it held a clue to who the owner might be?
But what if inside all you had was a red notebook which held the thoughts and feelings of its owner.
Would that be enough to find out who it belonged to?
The bag and the red notebook belong to Laure who suffers as she has been parted from these personal items. The rescuer of the items is Laurent, a bookseller in Paris who despite feeling he has intruded on something by reading the red notebook is for some reason drawn to the person.
The story is uplifting and sweet as we are taken round Paris, as Laurent seeks to reunite the items. With additional characters who interact with both Laure and Laurent we are given a more rounded picture of their life and their existence in this big city. Laure's work colleagues, her work fascinated me – I will let you discover what that is. Laurent's daughter who was starting to find her own way out in the world whilst still relying on her father. Laurent's current girlfriend who tries to understand the fascination with this handbag and the red notebook.
It becomes a quest for friendship, for love, for discovery and when you realise at only 160 pages a lot is actually packed into the covers.
A recommendation which I received and I pass on with only one caveat – you need to also pass the book on when you have read it!
Thank you to Jane who now blogs at Beyond Eden Rock for reading this book and writing such a beautiful review I had to read it too!  
I read very few books in translation, but I was completely unaware in this novel, as I was drawn into the story. Antoine Laurain has also written The President's Hat and I hope to read that soon too.