I have been going through some of my older reviews that have not been featured on this blog, because they were written before I started blogging, but they are recorded for posterity on Amazon. I recently wrote again about watching the film The Help after having read the book a long while ago.
I stumbled across another book which has now been made into a film and has won coveted Oscars as well. I have not seen the film and I am not sure I will. The book was very moving and since having read it and reviewed it, I had a glimpse into the life of dementia during the last few years of my grandmother's life, I think it is still all a bit too raw.
I do think that everyone should read this book though.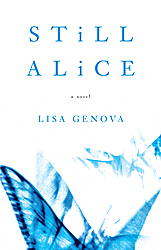 I am not a medical expert nor have any experience of Alzheimer's first hand. This is not a book which I would have normally picked up. It was recommended and I am so glad it was.
Alice has early onset Alzheimer's and a highly intelligent, well regarded individual sees the work around her start to move further away from her. What she once knew she now doubts; her route home when running, the name of her daughter's husband; family recipes and traditions, familiar words work she has researched and published. Eventually to not knowing her children's names, nothing she has ever written, and even the strange man that is her husband.
This is the Alzheimer's taking hold. Lisa Genova in her debut novel deals with subject in my opinion honestly and emotionally. Genova knows that for years Alzheimer's can go undetected in younger people but to give a rapid diagnosis to Alice allowed her to develop Alice's decline.
Genova actually brings this into her writing, suddenly there is a shift in the prose and the gaps are there. Lydia her actress daughter is referred to as "the actress". Anna, the mother of Alice's only grandchildren is "the mother". The change is not apparent to the reader, no jarring obvious joint. But the slow decline of Alice to the readers, her family and herself.
This book will make you cry in some places, laugh in others with Alice (never at) and feel empathy with the frustration of not being able to do the things you love. Reading is one of my great loves and to lose the ability to concentrate long enough to even consume small amounts of words string together is frightening.
I know some reviews are critical of the medical side of this novel, however with no prior knowledge of this; I did not regard it as a problem. The book is how Alzheimer's affects everyone; the family, the colleagues and most importantly the interaction of the diagnosed with all these people.
Highly recommended.