After surviving an air crash Jerry Burton and his sister Joanna, need to go somewhere tranquil, peaceful preferably a village in the English Countryside where nothing much ever happens and nothing much to tax the brain.
It is that which brings them to Lymstock but they seem to land straight into the middle of a village who are on the receiving end of something very nasty.
Poison Pen letters.
Everyone is getting them, the vicar, the doctor, the solicitor, the maids, everyone it seems. It spares no one, or does it? Does the one person it spares identifies the culprit?
And now despite being newcomers, Jerry and Joanna are subjected to this vicious poison and deadly gossip.
This wonderful Agatha Christie novel, is told from the perspective of Jerry whose convalescence is taken up with solving the mystery and the murder. He has the answer, it is straight under his nose but he seems to have lost all sense of what is there in front of him. As for his cosmopolitan sister, she seems to have taken to village life rather more than he ever thought she would. It looks like Jerry and Joanna are going to take very different paths.
Eventually Jerry needs some assistance in getting to the conclusion, he has seen all along. In steps the wonderful Miss Marple. This is a Miss Marple story and where she appears in the last 40 pages of the book, the last quarter of it, I did wonder how she was going to make an appearance, as the story progresses you cannot see how she can possibly fit in and bring all the answers.
With Christie's writing she does of course bring Miss Marple in to merely just point Jerry back to what he knew…. "that woman knows more about the different kinds of human wickedness than anyone I've ever known".
Of course every loose end, red herring is all settled and the answer of course was always under Jerry's nose (as well as us as readers!). A good example of Christie's work, but not a story which is full of Miss Marple, so you may be disappointed.
I was trying to find in vain, the cover of the copy of the book I read. Taken from my mum's bookshelf. I came across many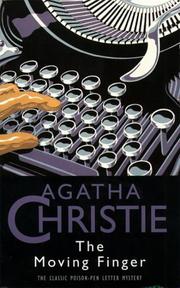 But I had to resort to taking a photo of the copy I read from:
I knew who the murderer was in this book as I have watched the Geraldine McEwan, adaptation of the story a few times. It was still good to see how they stuck fairly faithful to the story, although in the television series, Miss Marple appears much earlier. It also meant I was on the look out for the clues and the red herrings along the way. I am not sure I found or spotted them all, but it was still a good read and ticks another Christie book off my list.