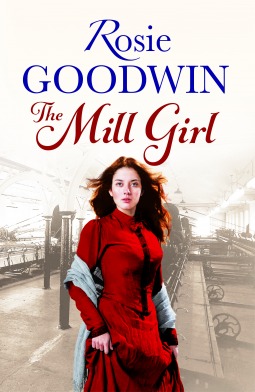 The Mill Girl can only be described as a book which is a historical family saga. If you like books in that genre then you are going to love this from Rosie Goodwin. It resonates Catherine Cookson. You can quickly envisage thanks to the writing the places that the characters live and work in. The characters that Rosie Goodwin creates just reinforces it all.
Maryann works at the local cotton mill with her father. Her brother, Benny is down the coal mine. Their sister Violet wants out of what she thinks the squalor of where she is living. She gets an opportunity to break free from this 1850s community in Warwickshire to seek fame and fortune elsewhere. When Benny gets a new job up at the big house, owned by Wesley Marshall, owner of the cotton mill where Maryann works the family breaks apart even further.
Maryann is determined and having lost a lot of people she loves in some tragic circumstances she can see no harm in speaking her mind especially when she believes that what she is saying is true. This leads to further complications and Maryann suddenly finds herself in a very different role.
As we follow this family and its young members as their lives progress we are faced with prejudice, disability, prostitution, scandal, murder, suicide, cruelty, poverty, power, loneliness and love. A whole gambit of issues and emotions is packed into these pages and these characters.
As with all these 'period' novels, love and romance are at its core and that you actually don't have to be very rich to be happy and in love. Having nothing but love makes your world much richer than those of your peers in the case of Maryann and her family.
This book has a lovely feel and shows how the workings of a big house can be made so much easier and harder depending on who is in residence. I wanted to be able to sit with Nellie in the kitchen and share a cup of tea as Ted, Benny, Cissie and the gorgeous Fleur wandered in and out. I wanted to shake some of the residents upstairs for their behaviour and cruelty to others.
It is the kind of book that gets you hooked in and whilst there is plenty going on and a number of subplots, everything is tied up in the end and the ending is going to be a happy and one with justice as well.
It doesn't matter that you know this, it is how the author takes you to the point of the book which is important and Rosie Goodwin does it so well and skillfully.
Thank you to netgalley for a copy of this book for review. 
The Mill Girl is out now in all formats. 
I am looking forward to reading more Rosie Goodwin. Historical Family Sagas were my books of choice going from teenager to adult and through my university days. It was the easy reading that kept me going I think and also the sense of community and love with ran through a number of these books.