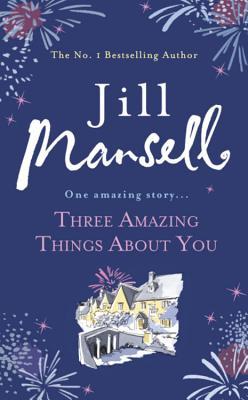 I am fairly new to Jill Mansell's work and in her latest novel, I am questioning why as this is a really good read.
The premise and title of the novel being that one of the three main female character's Hallie runs an agony aunt website where you have to declare three amazing things about yourself before submitting your letter. It is meant to allow all readers to learn a bit more about you.
All the readers don't know who Hallie is, she is just someone behind a website. Jill Mansell does let us get to know Hallie and I am really glad she did. Hallie is young and in love, she has her whole life ahead of her but only with one outcome. The outcome does not bear thinking about.
Flo has fallen for Zander, but there are difficulties. The main one being Lena his sister. She made me want to cry, laugh and throttle her in equal measure as it was quite clear that she could not survive in the world without anyone pandering to her needs and wants. For most of her life that has been Zander. But his new found fascination with Flo starts to change everything, until one day it changes everything for ever.
Tasha has a name for herself, mainly from the fact that she was seen rifling through a bin where she inadvertently threw her credit card. An audience has formed but one man comes to her rescue as he is used to do brave and rather dangerous adrenaline acts for fun. Tasha is safe and secure, how can she possibly fall in love with someone so addicted to danger. It can only go wrong.
Of course these women's lives are going to cross. I had an idea how, but I was not prepared for the emotional rollercoaster that Mansell took me on. All I can say is it was written with such care and tenderness that I felt privileged to be able to see a window into that particular world.
If you have never read any of her work before, here would be a good place to start. Fans will adore it.
Thank you to netgalley for providing me a copy of this for review. 
Three Amazing Things is published today in Hardback and Kindle. 
I should really reveal three amazing things about me in spirit of the book:
1. I once held Frank Bruno's dirty laundry (it was in a bag at the time).
2. I grew up in a flat attached to the city swimming pool.
3. I was ten days overdue at birth and have been trying to make up for it ever since.
Three Amazing Things is published today in Hardback and Kindle.