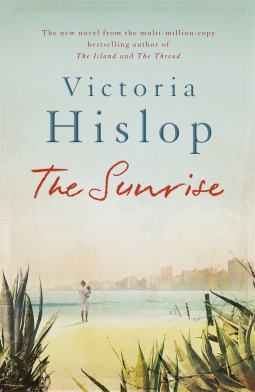 This is the new novel from Victoria Hislop and in like previous ones, her focus is on the Mediterranean and in this case the island of Cyprus.
It is 1972, the independence from a British administration in 1960 and conflict between the Greece and Turkey is a memory but a recent one. Now the focus is on making a livelihood especially from those who seek out the island as a desirable place to holiday.
Famagusta is that place.
It is being made into a paradise. And it is Savvas Papacosta who can see there is money to be made, if you provide a paradise stay in.
Savvas and his wife Aphroditi are about to open the poshest hotel in the resort and although they have not done it all on their own, they are very much in the debt to those whoa re working behind the scenes. It is these people who have a story to tell. It is those without the money that seem to be the happiest.
Different members of two families are employed in the  hotel in one capacity or another. They are all friends. However they should be enemies. Having moved away from violence in the past the Georgious and the Ozkans are enemies based on either being Turkish or Greek Cypriots. This means nothing to them, they are friends.
Paradise is a facade and it seems that strong friendships are about to be tested when violence and conflict come to Famagusta.
Everyone flees apart from a strong few. They seem to be unable to leave Paradise behind. Will it be the right decision?
This is a book which is a love story with an ideal – paradise. Conflict shatters that ideal and shows the love of friendship is the paradise that everyone should be aspiring to. Money cannot buy it but violence can suddenly take it away.
This was a moving book, the author shows the brilliance of a paradise holiday resort, but also how conflict can ruin that brilliance. The title The Sunrise in reference to the hotel that is emerging to be the best also for me reflected that the sun continues to rise each day, despite the darkness that this island and its inhabitants are suffering. It gives hope that each new dawn might bring peace.
For many new dawns there is no peace, you read on as we are immersed in conflict, you escape and hide and I suddenly found myself wanting to know what I would do if it was me.
I learnt about a place I never knew existed and I wondered if perhaps there is cases of families who stayed, who had to be enemies despite being great friends. I did feel the ending was a bit hurried and rushed, but a book does have to end. I was just sorry it did have to.
Thank you to the publisher for sending me this book for review. The Sunrise is published on 25 September. 
It is a while since I had read any Victoria Hislop, and I have her third novel on my shelf  to read but obviously kept overlooking it. I had forgotten what a wonderful storyteller she is and also how at the same time I am learning something as well. This is one of the things that I love about reading.