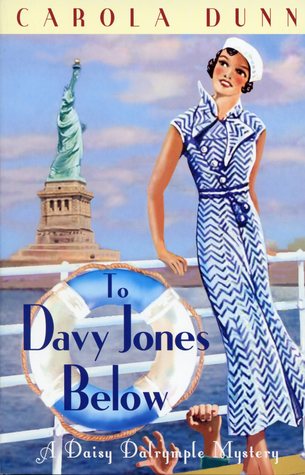 Daisy Dal.. Fletcher is back and she is getting used to being married. Having successfully balanced a wedding that suited her status as an honourable and Alec's as a mere humble policeman with the Metropolitan police they embark on their life together.
Alec's superiors hope that now Daisy is married she will be less inclined to involve herself in murders and stumble across dead bodies. Oh how little they know Daisy although in the case of this 9th book Scotland Yard were wrong.
After their honeymoon, it seems that Alec's knowledge and experience are required in America. Especially after successfully helping Caleb Arbuckle's daughter Gloria in a previous novel. Daisy is not going to be left behind and they join the ship as it makes it's rather bumpy way across the Atlantic.
As the weather picks up to a storm, it seems that it is affecting the passengers and all of a sudden, there is a man overboard.
Here comes the familiar question in such cases. Did they jump or were they pushed? Or did. Other nature just happen to have a willing hand in their passage out to the treacherous sea.
Alec is with Daisy sharing a moment of newly married bliss when the first man goes overboard. It seems that Alec has the knack of being in the wrong place at the wrong time, just like his wife. Despite being unknown as a policeman on the ship he starts to investigate when seasickness overtakes him and it is left to Daisy to start piecing together the full story.
Then another man goes overboard. It seems this voyage is doomed to be one of murder. Will Alec be able to recover enough to take over from Daisy and ensure that no one else suffers the same fate?
This is one of the stronger Daisy Dalrymple books for me, the storyline is strong and the characters all have their place. My only disappointment was the lack of Belinda, Alec's daughter who I think has a lot of spirit and makes for an interesting dynamic between the three of them. Daisy is not just a wife (and amateur detective), a writer she is now a stepmother. I think this with the combination of the cross of the classes makes these books a different take on the genre which is becoming 'cosy' crime.