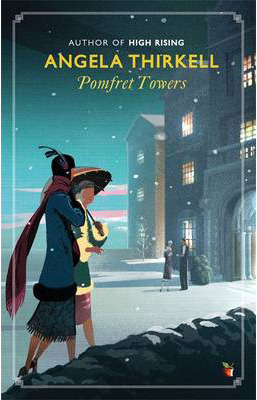 Pomfret Towers is an ideal place for a House Party, you can imagine that most weekends being taken up by them. Alice Barton on the other hand is not your ideal guest for a house party. She has been a sickly delicate child and a cosseted youngster and rarely sets foot outside her own front door. She seeks solace in her painting and rarely speaks even when spoken to. She is described as 'insignificant' by Mrs Rivers and at the beginning of the book she is somewhat.
However, the house party throws together some interesting people, some interesting and humorous situations which bring Alice into another world and out of her shell. Giles Foster is the nephew of the current Lord Pomfret and is also the heir of Pomfret Towers. Although his own father stands in his way to this title, Lord Pomfret thinks it is time that Giles understood exactly what he is going to inherit. As a bachelor (and heir of course) he catches the eye of a number of young women (and their mothers) also attending the house party. He has his pick. But does he pick with his heart or his head?
There is of course the pushy mother Mrs Rivers, who spends her life defending her bohemian son, who was a most trying man and trying to force her daughter, who rather devilish into a marriage with money. Her own career as an author of rather soft and romantic novels for ladies of a certain age, gives Lord Pomfret something to groan about especially when he wants to talk to her publisher alone.
The Wicklows, Sally and Roddy are Alice Barton and her brother Guy's friends.  They understand Alice and look after her as much as they can but they are rather more adventurous and spend a lot of time outdoors and with opinions of their own they rather leave Alice behind sometimes. Alice needs to catch up with them all.
This book is a gem, as it glimpses into a world full of those that frequent the big estates in the pre war period. I hate to say Downton Abbey but I can see the correlation of the thought of those that are invited to a house party and those that serve at them. A real mix of people who start the weekend in one way, with thoughts and feelings for one particular guest and come out the other side completely different, matches are made which you would never have considered and those who contrive to force romance on some are left disappointed. Whilst this book can be seen as perhaps Alice's introduction to this world, it is all the wonderful characters that Thirkell has created in this book that tickled me.
If you like light fiction, something that resembles Wodehouse in parts I found, then this could be the book for you.
This is my first Angela Thirkell book that I have read. I am sure it will not be my last. I found the book a delight and really enjoyed the writing and the characters immensely and rather annoying in the case of Mrs Rivers at times. But that is what made it a good read for me. 
I also adore the cover of this new edition and think it will be a book that remains on my shelf as opposed to setting it out on its own journey to someone else. 
Can anyone recommend one I must read next? And do I need to read them in any particular order?