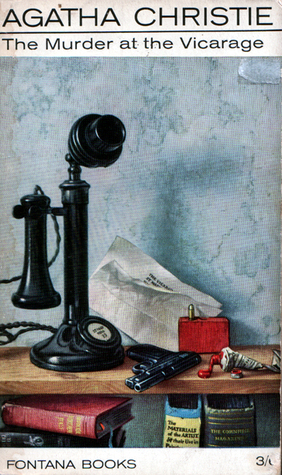 The local Vicar of St Mary Mead, narrates this murder mystery from the pen of Agatha Christie.
His name is Leonard Clement and he resides at the vicarage with his much younger wife, Griselda and his nephew Dennis. One evening he is expecting a visit from Colonel Protheroe, but when he unexpectedly gets called away to a sick parishioner, his maid lets the colonel enter to wait.
Upon return the colonel is found dead. Shot in the head.
Within hours, someone has handed themselves in.
Then someone else steps forward and claims to be the perpetrator.
But it all just does not make sense.
Shots were fired, but not heard. Letters were written but by which hand. Time is being manipulated.
Everyone was seen, everyone is the little village from the butcher boy, the unknown lady visiting the village,  the curate, even the vicar has an alibi. And whilst everyone was seen, everyone is suspected. The vicar somehow becomes the advocate in getting to the truth and he is being guided by the eponymous Miss Marple;
"There is no detective in England equal to a spinster lady of uncertain age with plenty of time on her hands."
And so the world is introduced to the lady who has observed human nature from her own little village and can apply the most innocent of goings on to the most complicated of murders.
This is truly one of the classic Agatha Christie novels and shows the skill that the author has of weaving her tale, setting you down on the right and maybe wrong path and seeing if you can find the answer out before the denouement at the end of the book.
I have seen the TV adaptation of this book many a time and knew "whodunit". However as I was reading, I suddenly started to doubt the version  had seen and that perhaps I was wrong and they have changed it all for televisual effect. (They had not). That just showed me the beauty of Christie's writing that you actually start to doubt yourself and have to see it all through to the end just to make sure. 
I read my mum's copy of the book, and it is the one shown above. It is very tatty with yellowing pages and rather broken at the spine. Somehow it felt just right to be reading such a story from such a well handled book.