On the 1 June  – a social media project was launched. Quite simply it was about books. It is running all the way through June and every day you need to tweet about the different question/topic. I have done this but for those who are not on twitter (you can see my twitter feed o the right hand side of this blog), I thought I might give you the first seven days and at least on my blog I have more than 140 characters to use……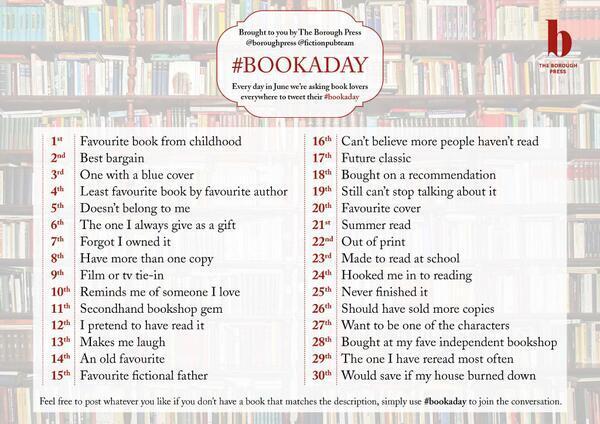 1st – Favourite book from childhood: Matilda – Roald Dahl I was interested to see that lots of people were voting for Roald Dahl and also good old Enid Blyton. I could have had so many of Enid Blyton's books but this was the first book I remember getting from the library when it was brand new in there. I was all on my own when I chose it so it was a big deal!
2nd – Best bargain: all books, because they all take you on a journey and an adventure! This is a bit of a cop out of answer, but I think all books are bargains.
3rd – One with a blue cover: From my where I sit looking : The Perfect Lie – Emily Barr I thought I would go with the first book that jumped out of my bookshelf, it has been sat there a while (signed) and really must be read at some point surely.
4th – Least favourite book by favourite author: Oh my…… I don't think I have read it yet….. 
5th – Doesn't belong to me: That would be all my mum's Agatha Christie's I borrow to read! I have a whim and think I need to read that Christie story so I head to my mum's shelf and find it, borrow it, read it and give it back.
6th – The one I always give as a gift: I make the book fit with the recipient so there isn't an exact book. There are so many books out there that I love and would love to share but I know some people would not like them, whilst others will enjoy them as much as me. It is a difficult choice to make always.
7th – Forgot I owned it: Alison Weir The Lady Elizabeth I am currently reading a lot of First World War literature at the moment and I forgot I had some Tudor reads.
I already have a growing list of books I need to look into since this started…whoops!