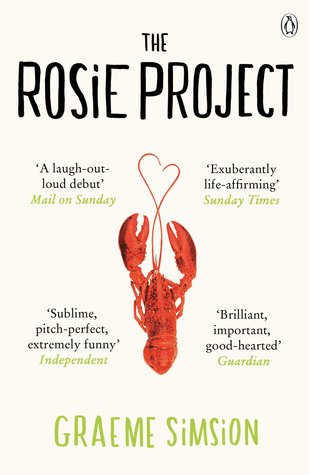 If only finding love was as simple as filling in a questionnaire – well for Don Tillman he thinks it is. For everyone else in his life, they know it is not. That does not stop Don.
If he can filter out all the time wasters, those who drink excessively, smoke heavily and can't function without some sort of structure and timetable he thinks he might be onto the right person. In walks Rosie, who drinks, smokes and can just disrupt all plans at a moments notice. Rosie is everything that Don does not require but she does require some help.
Rosie wants to find out who her biological father is and to do so without them knowing, she needs DNA and she needs to get it tested. Don is a geneticist and can do such things. He is drawn to help Rosie and becomes involved in what he calls the Father Project and puts his so called Wife Project on hold.
Although a predictable outcome can be foretold, by simply reading the blurb on the back of the book. How we get there is the most amusing tale I have read for a long time. I could so relate to Don's logic in some matters and at the same time, could find some of his actions amusing. I never felt as I was reading this book, that I was laughing at Don more with him. The author must be laughing with us, as to call a professor 'Don' and his friend in the same field 'Gene' must mean something on a very different level. Don't try too hard and wonder what it is, that is not the point. Accept it all when reading this book.
The author is  hoping that readers can see the funny side of how ordinary life is. The situations are not complicated or uncommon, they are simply happening all around us and are everyday in fact. However to Don they are a challenge.
All the supporting characters were well rounded and played an important part. Claudia and Gene were the couple that Don was perhaps aspiring to be in without all the issues that he could see were challenging their relationship. The situation that Don and Rosie get themselves into whilst serving cocktails was funny as is the insight into Don's brain as he meets people and assess them;
"At Yankee Stadium we got beer and hot dogs. A man in a cap, estimated age thirty-five, estimated BMI forty (i.e. dangerously fat), sat beside me. He had three hot dogs! The source of the obesity was obvious".
I think we should be grateful that Don ever vocalised these thoughts.
There are so many 'moments' of clarity for the reader and the characters that this really is a great novel and one to enjoy. It does sometimes come across as a screenplay, but it was written originally for the screen, but then adapted into the novel. And for all Don and Rosie fans, of which I am now one, a sequel is out towards the end of 2014.
This was May's book club choice and it went down an absolute storm with everyone. Everyone had read it, loved it and were very much impressed. It  was interesting to see what two of our group thought, as they both have children with very similar autistic problems such as Don had. They both could relate to it in a very different way and could see the laughter on very different levels. It made for interesting discussion and I know we will all be clamouring to read The Rosie Effect out September 2014.