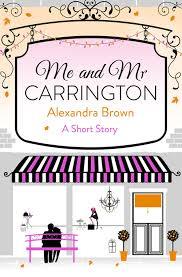 When you don't have time to become absorbed into the latest offering in a series of books, a short story sometimes just fills in the gap until you have the time to read a full length novel or the next instalment comes out.
This is exactly what Me and Mr Carrington is, it's a bridge between two full length novels about Carrington's department store set in Mulberry on Sea. Georgie is on cloud nine about her relationship with Tom, it all seems to be going well and even a romantic trip to Italy seems to have strengthened their new relationship.
However, back in the real world of the department store and luxury handbags, Georgie is struggling to cope with the fact that she is in love. When a customer happens to drop Tom's name into conversation, suddenly Georgie thinks she may have got it all wrong. Has she?
Alexandra Brown has captured the love of a group of a group of characters all featured around one setting (department store) and encapsulated it in this series of books. I looking forward to reading the next full length novel and finding out more about the world of luxury handbags at Carringtons.
The only trouble is the next book is a Christmas themed one and can I read that when it is not Christmas? Or do I wait and then have two to read come the end of the year, as Ice Cream at Carringtons comes out in the summer? Decisions…..